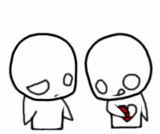 During 30 hour Famine
Her : "I love you."
Him : "actually I miss you."
Her : "but we're not supposed to see each other right?"
Him : "nevermind la, it's unavoidable"
(conversation cut off because both were too busy)
After 30 hour Famine
Him : "tonight got CSS meeting."
Her : "O...how's your vacation?"
Him : "can I come back to you dy?"
Her : "=.="
Him : "seriously miss you."
Her : "so fast? not up to 3 days"
Him : "I suck I admit."
Her : "I love you lots."
Him : "I love you too, really."
Her : "I'm sorry I make you lost your patience."
Him : "I'm sorry to treat you so badly."
Her & Him : " :) "
Sometimes even when we get used to the worst, we'll miss it.
And little misunderstandings though they hurt so much, is not going to change anything.
God is true,
"Love is patient, love is kind. It does not envy, it does not boast, it is not proud. It is not rude, it is not self-seeking, it is not easily angered, it keeps no record of wrongs. Love does not delight in evil, but rejoices with the truth. It always... protects, always trusts, always hopes, always perseveres. Love never fails."
-1 Corinthians 13:4-
Thanks to dearest Wan Lin for all the advices.
Though I suffered alot while waiting,
I followed God's words and it lead to something better.
<3