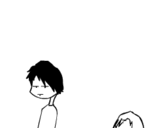 When I had feelings for guys,
I mean, not love but perhaps affections,
I will be hoping that he will notice my presence, at least.
Most of the time when we face this type of situation,
we will be hoping that the opposite will feel the same.
The not so daring type will stare at the opposite from far,
hoping the opposite to stare back and give a smile.
The daring type will of course go up front and confess.
Nothing is more wonderful than finding someone who loves you back.
But the in reality it is not so likely.
I've recently learnt that even when love meets,
there are still challenges ahead.
And people who are in love not necessarily can be together.
It's painful but usually that's the fact.
When I experience it the first time myself,
I felt like it was a fairy tale.
How can be two people be so in love but they can never be together?
I had always thought that love can unite.
Or when people love each other it will be like heaven.
But it's not, it may even cause pain.