My 2nd brother went for camp again today...
I am entering the 3rd week being in Kuching,
and my 2nd brother had his 2nd camp already..
My youngest brother is scheduled to come back from his camp today,
yet my 2nd brother will be away for camp from today..
Since I came back to Kuching,
I had not been to church with my whole family..
The 1st week, my 2nd brother was at camp..
The 2nd week, my youngest brother was at camp...
The two of them seemed to be busier than anyone else on Earth,
while I am here at home bored till death..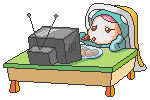 Yesterday..
I woke up around 12pm..
Took lunch, chatted with piggy butt, watched random movies..
Then went to sleep again around 4pm..
Woke up around 6.30pm, took dinner, watched random movies..
Then took my bath around 10pm..
Watched Hancock, which was on my lap top even before study week...
Watched Madagascar 2 for the
5th
time..
Watched Twilight for the
2nd
time..
Watched Wild Child...

Woke up around 1.30pm today..
Till now I did nothing except lunch..
Missing piggy butt..
Missing my friends..
I wonder when are they coming back from their vacations,
cannot wait till we hang out together..
Planned to go MV Doulous, but still waiting for my Dad to bring us..
I need to buy some books!!
The library sounds cool but they only allow the books to be borrowed for 2 weeks..
And it is kind of far to drive all the way there to borrow,
then drive there again to return..