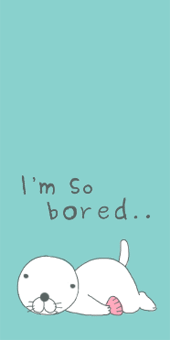 Okay well..
I'm freaking bored right now..
I have nothing to do..
Had been surfing the net whole day,
and now I don't know what else to surf..
No books to read..
My fingers hurt,
and I can't learn my guitar..
No movies to watch..
Friends are busy..
Bored of listening to the same musics..
Bored of playing the same old games..
And I'm too lazy to bake or what ever today..
Can't work,
cause nobody's gonna employ me for 1 month..
Missing my friends, my cousins,
and of course my piggy butt terribly..
Can't wait for X'mas!!
Wait..will I be celebrating X'mas???
Brothers are busy with their activities..
Boredom kills!